Fast Facts
OFFICIAL NAME: French Republic
FORM OF GOVERNMENT: Republic
CAPITAL: Paris
POPULATION: 66,259,012
OFFICIAL LANGUAGES: French
MONEY: Euro
AREA: 210,026 square miles (543,965 square kilometers)
MAJOR MOUNTAIN RANGES: Alps, Pyrenees, Massif Central
MAJOR RIVERS: Seine, Rhine, and Rhône
Government
The government of France is a semi-presidential system which is a combination of presidential and parliamentary systems. The president is elected by the people and is head of state. A prime minister, chosen by the president, works with the elected parliament to pass laws.
Celebrations
Beside Christmas and New Year's Eve, one of the most important French holidays is Bastille Day on July 14th. On this day, the French remember the event that began the French revolution. The day is a national holiday in France. People go to watch the Bastille Day Military Parade. There are also many large public events including picnics, musical performances, dances, and fireworks shows.
People and Culture
France is one of the oldest nations on Earth and the most ethnically diverse country in Europe. This diversity has helped make France a world leader throughout history in nearly all aspects of culture. One very important part of French culture are visual arts, like paintings. One of the most famous art museums in the world is the Louvre, located in Paris. Its beautiful monuments and buildings include the Eiffel Tower, the Arc de Triomphe, Versailles, and Notre Dame de Paris.
Religion is very important in French culture. Although there are many different religions represented in France, including Islam and Hinduism, most people in France identify as Roman Catholic.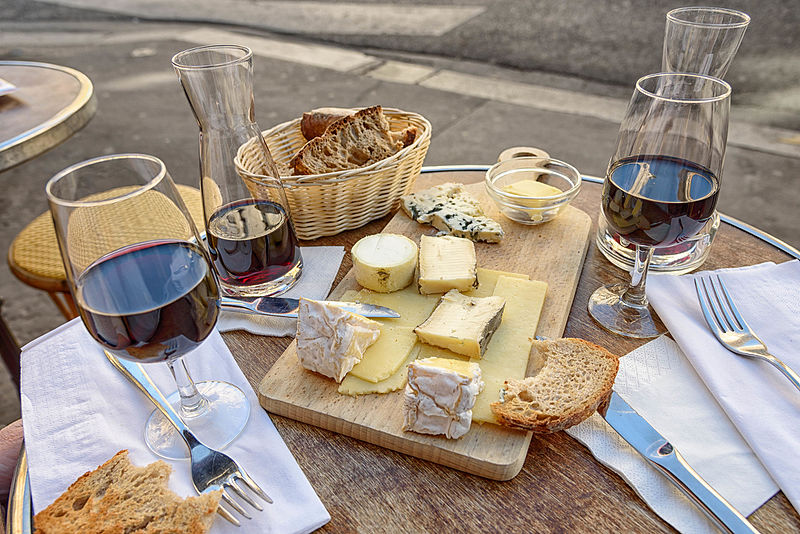 Sports
France has become an important player when it comes to hosting different international sports competitions. From football to motor sports such as the Tour de France cycling race and the 24 Hours of Le Mans car race. Football (soccer) is the most popular sport in France with 2 million players. The French team won the FIFA World Cup in 1998. Rugby is almost as popular as football. Cycling is also a very well followed sport, with many people in France cycling as a hobby. Tennis and horse racing are also some French favorites.
Food
Thanks to their rich farmland, France is the country of cheese and wine. Every little village produces its own wine and cheese and many are excellent. France is known for its fine food. French cooking is thought to be the best in the world. Chefs prepare dishes such as quiche, soufflés, mousse, pâté, croissants, crêpes, and French bread. Meals in France are joyous, long events with families drawn close together for conversation. The typical French meal offers three to four courses which includes cheese before dessert. All meals are accompanied by freshly baked breads and wine.