Fast Facts
OFFICIAL NAME: Canada
FORM OF GOVERNMENT: Federal parliamentary state
CAPITAL: Ottawa
POPULATION: 34,834,841
OFFICIAL LANGUAGES: English, French
MONEY: Canadian dollar
AREA: 3,849,674 square miles (9,970,610 square kilometers)
MAJOR MOUNTAIN RANGES: Rockies, Coast, Laurentian
MAJOR RIVERS: St. Lawrence, Mackenzie
Government
Canada is a federal parliamentary democracy. There are three levels of government in Canada; federal, provincial and municipal. The government at each level makes laws based on their area of responsibility.
Canada is also a constitutional monarchy. The British monarch is the head of state although her powers are limited in government and is mostly considered a figurehead. Laws are made by Canada's elected federal government, which includes a parliament and a prime minister. The Prime Minister is the head of the government.
Celebrations
Whether they originate from an act of Parliament, religious custom or just social tradition, there are a lot of special days on the Canadian calendar. There are actually only two nationwide legal holidays recognized by the Canadian government: Canada Day and Victoria Day. Every other legal holiday in Canada is set by the provincial governments. The federal government does officially define seven other days as "holidays" — Christmas, New Year's Day, Good Friday, Easter, Labour Day, Thanksgiving and Remembrance Day — in recognition of the fact that these days are public holidays in most provinces. An unofficial holiday is a special day that may involve a great deal of celebration but is not a day off work such as Halloween, St. Valentine's Day or St. Patrick's Day.
People and Culture
In some ways Canada is many nations in one. The First Nations were Canada's founding peoples. In the early 1600s, the French and British began to arrive. They were followed by other European and Asian immigrants. Canada is a vast country with significant cultural differences across its provinces. This in part reflects the differences of where groups of immigrants decided to settle.
Today, Canada contains a mixture of diverse cultural and religious groups. Descendants of British and French immigrants make up about half Canada's population. Canada's native peoples and immigrant groups have added to the mix, creating a cultural diversity that the country considers a national asset.
Canada's art reflects its multicultural population as artists have incorporated their diverse origins into their artistic creations.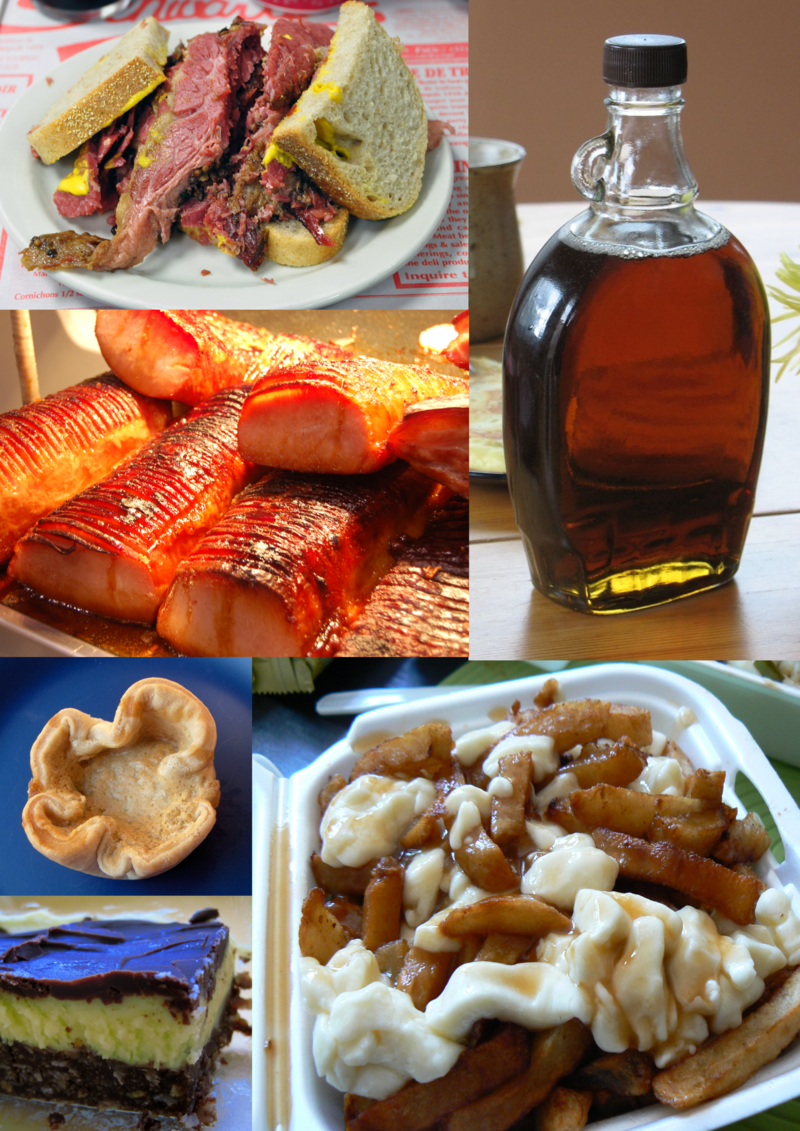 Sports
Canadians participate in a wide array of sports and other recreational activities. Sports also play an important role in the Canadian school system. Lacrosse is Canada's national sport, but the most popular sport is hockey. Soccer, golf, tennis, skiing, cycling, and canoeing are also practiced by many people. Curling is one of Canada's oldest sports and remains popular today. The national teams are among the most competitive in the world. Other winter sports widely enjoyed by Canadians, as both participants and spectators, include ice skating and downhill and cross-country skiing. Among the many warm-weather recreational activities, fishing, hunting, and canoeing are perhaps most associated with Canada.
Food
Canada has a rich agricultural and farming heritage producing food and animal products. Traditionally most families have three meals a day which includes breakfast, lunch and the main meal of the day dinner which is eaten in the evening. Canada has a large and diverse ethnic population spread across the nation so there are significant variations of traditional meals and foods.